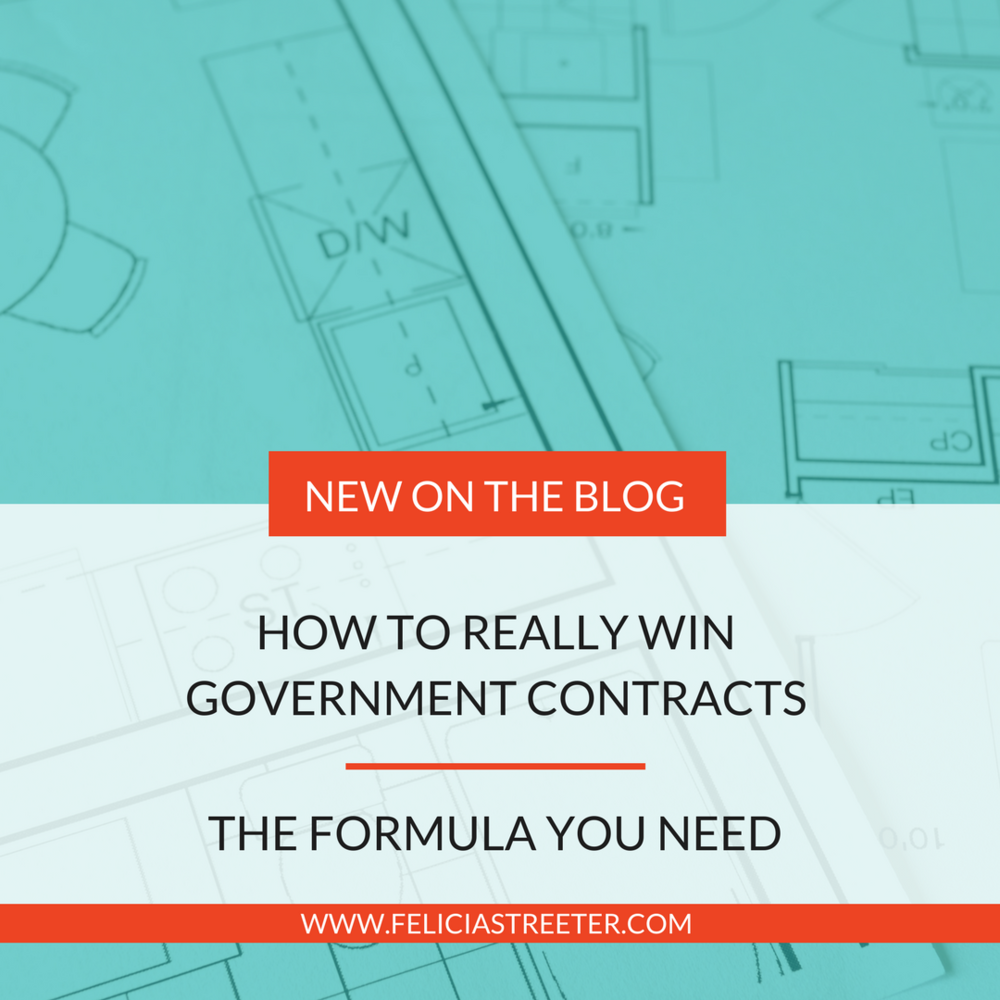 The process of winning government contracts doesn't have to be so hard especially when you know these 5 simple rules and you take action. Government contracting can be hard work, time-consuming (especially if you're trying to figure this all out on your own), yet it can be very rewarding.
Don't make things more difficult than they need to be. Follow these 5 simple rules of engagement… Many of you have heard my story, How I went from $23k to $7 million in 18 months. That's what has attracted many of you to me. My story, at the beginning at the $23K mark, is your story. The thing is my end result may not be your end result. Everyone's pace and path are different. You can't just be inspired by my story and muster up enough joy to get you excited and take action because here's this girl that went through what you're going through and she found a way out to victory.
You've got to blaze your own path but with the right action steps to win Government Contracts.
There are 5 simple steps you need to know and make sure you take action on and two of the steps you need to continually take action on to win.
Step 1 – Narrow Your Focus
Know what you'll offer the government. It's not a good idea to offer multiple things that don't go together like construction and tire repair. You want to be known for one thing. This will increase your win rate.
Procurement officers, contracting officers, and primes will remember what you do, especially when you've narrowed your focus. You've heard the saying 'a jack of all trades a master of none.' Narrow your focus. Offer that one thing and make your thing that one thing.
Step 2 – Reduce Your Competition
When you get certifications for which you qualify you'll limit the competition. It gives you the opportunity to take advantage of set-asides for MBE, DBE, WOSB, SDVOB, 8(a), and HUBZone.
The government will put out contracting opportunities and set them aside for a certain type of certification. This means only those that hold that particular certification can bid and be considered for the contract.
Step 3 – Subcontracting Opportunities
Many new contractors sleep on this opportunity thinking they can go straight to being a Prime Contractor. Big, big, mistake. I don't believe in leaving money on the table so this is definitely something I teach in my programs.
Subcontracting is a great way to add to your bottom line profits and increase your cash flow while you're building your government contracting business to be a prime contractor. Also, on the larger projects, prime contractors are required to have a subcontracting plan.
Step 4 – Seek Contracting Opportunities
You have resources made available to you to find out almost everything you'd want to know to help with step 5, marketing. You can use resources like FPDS and FBO to find procurement officers, contracting officers, prime contractors, and what type of projects they put out for bid.
Step 5 – Market Your Business
Most contractors stop at step 2, applying for certifications. Here's where your grit will come in. You should always be marketing and promoting your business.
You should build relationships with procurement officers, contracting officers, prime contractors, subcontracts, and key decision makers. You can find them at networking events, conferences, trade shows, matchmakers, SBA workshops, and industry days.
There you have it. What it'll take for you to win government contracts. Now all you need to do is activate your grit!
If you need help positioning your business to win government contracts, you should join us for the Contractor's Edge 'Government Contracting' Bootcamp.
POSITION YOUR BUSINESS TO TAP INTO THE TRILLION DOLLAR GOVERNMENT MARKETPLACE AND WIN CONTRACTS…
Here's what the Bootcamp is all about: This complete step-by-step Bootcamp on government contracting positions your business to fast track your government contracting opportunities. At the end of the Bootcamp, you will leave with an understanding of the government marketplace and a customized step-by-step plan to start and grow your business in the government marketplace. Quicken your growth in government contracting by enrolling in the Contractor's Edge Bootcamp.
Here's what's in it for you: The goals and objectives of the Contractor's Edge Government Contracting Bootcamp:
6 Weeks of office hour access for Q&A calls
Proper registration for government contracting work
Help you obtain Certifications
HUBZone, WOSB, SDVOSB, MBE, WBE, DBE
Build your contracting capacity to perform
Discover contracting opportunities
Develop government contracting strategy
Create a killer capabilities statement
Navigate the Federal Contracting Systems
Find your government buyers
Market to your customers
Proposal writing strategies
Locate funding options for your business
Templates and checklists
Access to the course content forever, including updates and new content
Invitation to group live Q&A calls
Bootcamp Training: The topics you will cover during the Contractor's Edge Government Contracting Bootcamp:
Sequencing Steps to Success
Assessment of where you're at
Developing a Strategy of where you want to go
5 P's to Winning Contracts
Learn the Government language
Registration training
Certifications training
Building winning relationships
How to find opportunities
Proposal writing techniques
Proposal writing strategies
Subcontracting opportunities
Funding projects
Creating your best deal
Bonding and insurance
Implementing what you've learned
Integration and celebration
You can get started today. It's now open enrollment for our next live session beginning on March 27, 2018.
The content for version 2.0 has been added to the website along with the new investment cost.
Keep reading…this is JUICY!
When you sign up you have lifetime access to the material and you're invited to the live sessions at no additional charge.
If you'd like to check it out on the website, go here: https://feliciastreeter.com/contractorsedge
Will I be welcoming you to the Contractor's Edge 'Government Contracting' Bootcamp?
Crush it this week!
Felicia